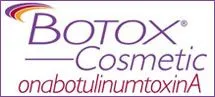 Botox is a medication that is injected into muscles in very small amounts to improve the look of lines that form when you express yourself. It can be used to treat crow's feet around your eyes, as well as the frown lines between your eyebrows and across your forehead, and to diminish neck laxity. Small amounts of Botox strategically placed can also help to lift the eyebrows, elevate the angles of the mouth when they begin to turn down, and improve chin dimpling. In addition, Botox can effectively diminish sweating of the underarms, forehead, and palms.

As time passes, your skin becomes less elastic. Years of squinting, concentrating, and frowning can cause the skin to furrow and crease. Botox works by relaxing the muscles that are tugging at the overlying skin and causing wrinkling. Although the results are visible, a treatment with Botox will not radically change your appearance or make you look like you "had work done." It is important that Botox be administered by a trained and experienced professional so that your face does not develop a "frozen" appearance.
The effects of Botox gradually become apparent within two to seven days of administration and may continue to develop for the next week or two. Results have been shown to last up to four months and may last even longer after a period of consistent use. Botox has a very long and safe track record when properly administered.
Discomfort with Botox injections is usually minimal and brief. Prior to administration, the area is numbed with a cold pack. A topical anesthetic cream can be used if desired. Very rarely, a small bruise can develop at the injection site. There is no concern about changing the color or texture of your skin, and this procedure is safe to perform year-round. Exercise and bending over from the waist should be avoided for a few hours after Botox administration; otherwise, you can return to normal activities immediately.